An excellent choice for high capacity and high mobility. Suitable for high capacity Ready Mix, Dam builders, Road Contractors & other specialized projects. The PAHM design supplies a high capacity compact modular unit allowing easy mobilization in the shortest possible time.
PAHM MM

MODULAR MIX &

PAHM MT

MODULAR TWIN

PAHM

KEY ADVANTAGES
High capacity in a mobile modular format, from 90-240 m³/hr
Suitable for all types of concrete, CVC (conventional concrete), RCC (Roller compacted concrete), PQC (Pavement quality concrete) etc
Quick coupling connectors between sections
Factory pre-wired & tested
Heavy duty steel construction designed for many cycles of assembly & disassembly
No Foundations required, even for the silos!
Batch ready in 1-3 days
The PAHM MM & PAHM MT class Modular Mix & Modular Twin plants are designed around standardized ISO container dimensions. The plants c/w twist locks and quick coupling connectors for electrical and pneumatic lines between module sections. The plants do not require conventional foundations, even for the silos, and this coupled with the modular design allows for easy & rapid assembly & disassembly. Site to site relocation of the PAHM MM & PAHM MT plants can be achieved in 1-3 days, even for the 240 m³/hr plant!

The PAHM MT Modular Twin plants can be separated to form the elements for two separate plants and later joined back together when high capacity jobs are required e.g. the PAHM MT 3.0 plant is a twin mixer 3m³/batch plant producing 240 m³/hr which can later be separated, with the addition of aggregates hopper & inclined conveyor, into 2 units 120 m³/hr plants and later reconnected again to a 240 m³/hr plant for the bigger jobs! This delivers unrivalled flexibility for your capital equipment!
PAHM MM 3.0

open version for hot humid climates

PAHM MM 3.0

euro spec version enclosed for extreme cold or extreme hot environments
2D LAYOUT PLAN FOR
PAHM MM

PLANTS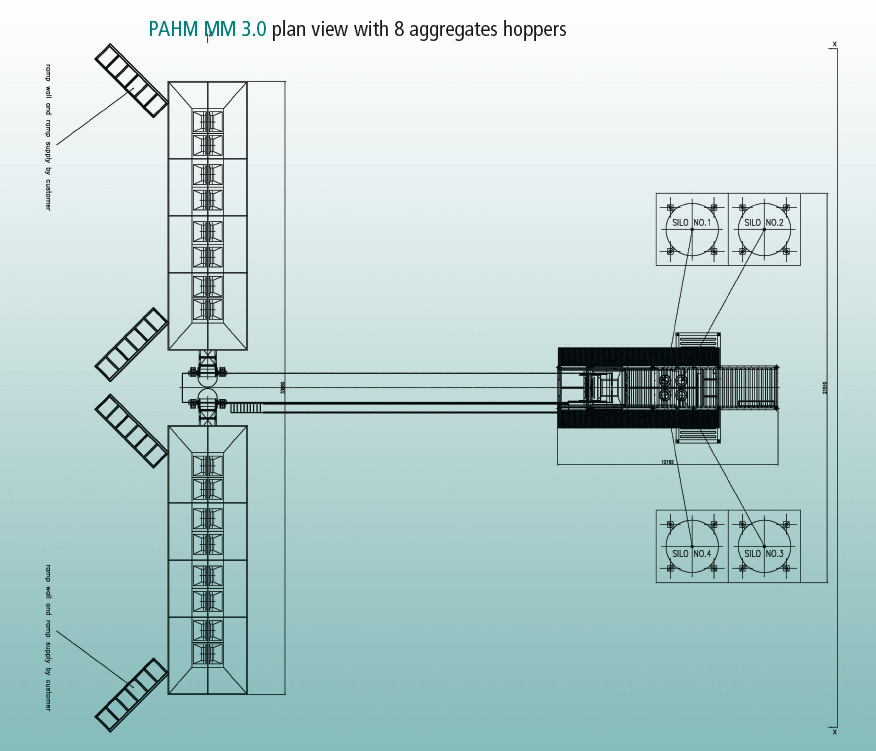 LAYOUT PLAN FOR PAHM MT PLANTS